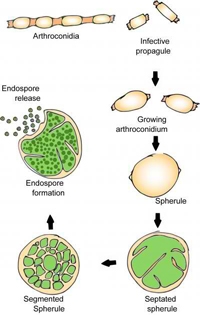 The rapid rise in valley fever cases in the arid southwest has become a serious health concern, as human habitation has pushed further into desert areas where the soil spores are widespread. Currently, Valley Fever affects an estimated 150,000 people a year, with most cases occurring in Arizona, California, Nevada, New Mexico and Utah.
The disease has no cure at present and is tricky to diagnose because it is similar to community-acquired pneumonias.
Currently, diagnosis is carried out through a technique known as immunodiffusion, which tests the blood for antibodies against Coccidioidal antigens. As the authors note, such tests are less than satisfactory, with a false negative rate as high as 50-70 percent. Around 5 percent of symptomatic patients display no measurable antibody levels to Valley Fever by immunodiffusion.
Infection with Coccidioides can progress through three stages of increasing severity. Valley fever is the acute form of the disease, which, if left untreated, can develop into a second-stage chronic infection, lasting months or years. This form affects roughly 40 percent of those exposed. The third stage of the disease, known as disseminated Coccidioides, occurs when the infection spreads throughout the body, affecting skin, bones and nervous system and causing skin ulcers, swollen joints and severe pain, abscesses, bone lesions, heart inflammation, urinary tract infection and (potentially lethal) meningitis. Disseminated Coccidioides affects 5-10 percent of those with chronic infection.
Read more on Science 2.0.
Photo Courtesy of Science 2.0.