Individuals with Valley Fever: Statistics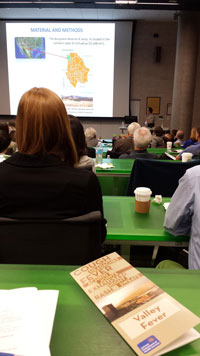 More than 20,000 cases of valley fever are reported each year in the United States (CDC, 2014). Many experts believe that far more cases go undiagnosed and/or unreported.
16,000 of those reported cases were located in Arizona and California (CDC, 2014).
The incidence of reported coccidioidomycosis increased substantially between 1998 and 2011, growing from "5.3 per 100,000 population in the endemic area (Arizona, California, Nevada, New Mexico, and Utah) in 1998 to 42.6 per 100,000 in 2011" (MMWR, 2013).
In California, the ratio of individuals with Valley Fever is an estimated 42.6 per 100,000 population (2011) (MMWR, 2013).
The total number of California cases in 2011 was 5,697 (MMWR, 2013).

Valley fever has been detected in the United States, Mexico, Central America, and South America (Campins, 1970).

Between 1percent and 5 percent of people infected with valley fever develop the severe form (disseminated disease), where the fungus spreads from the lungs to the rest of the body (County of Kern Public Health Services Department).

The disease has commonly been termed "Valley Fever," "San Joaquin Valley Fever," "San Joaquin Fever," "desert fever," and "desert rheumatism" (Smith, 1940).

The rise in cases has contributed to high hospitalization costs of over $2 billion for those afflicted with the illness ranging from mild symptoms to disseminated disease (

Sondermeyer, 2013)

.

A six-fold increase in the rates of reported cases occurred in California between 2000 and 2011 

(

Sondermeyer, 2013)

. 

Whether this is because of increased awareness of the illness, changes in the environment, or other factors remains unknown.
Campins, H. (1970). Coccidioidomycosis in South America. A review of its epidemiology and geographic distribution. Mycopathologia et mycologia applicata 41, 25-34

Smith, C. E.  (1940). Epidemiology of Acute Coccidioidomycosis with Erythema Nodosum (San Joaquin or valley fever). American Journal of Public Health and the Nation's Health 30, 600-611.

Sondermeyer, G., Lee, L., Gilliss, D., Tabnak, F. & Vugia, D. (2013). Coccidioidomycosis-associated Hospitalizations, California, 2000-2011. Emerg Infect Dis 19, doi:10.3201/eid1910.130427