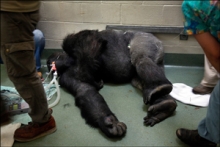 LOS ANGELES (AP) — Jabari, a western lowland gorilla living at the Los Angeles Zoo, is on the mend after receiving treatment for a severe case of valley fever.
The great ape has had the fungal infection for about three years and had lost about a fifth of his body weight, the Los Angeles Times reported.
But after giving Jabari a checkup on Thursday, veterinarians said he has regained much of that weight, and is back up to a relatively normal 360 pounds.
"The good news is that Jabari has finally turned the corner and is doing very well," said Curtis Eng, the zoo's chief veterinarian.
Read the full article on BakersfieldNow.com.
Photo courtesy of AP Photo/Los Angeles Times, Rick Loomis.