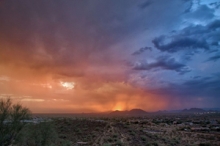 Valley fever is on the rise in the southwestern United States, including Arizona's Sonoran Desert. Photo courtesy of Flickr user Are W.
It was a Thursday morning in March that Al Rountree called his boss to say he was too exhausted to make it to work. Thinking rest would help, Rountree went back to bed and slept the entire day. The next morning, he woke up even more exhausted, and the pattern continued through the week.
"Each day, I got more and more tired," he said. "I could hardly make it to the bathroom." Within 10 days, Rountree was in a local hospital on a breathing machine.
The Bakersfield, Calif., resident had valley fever, a lung infection brought on by inhaling a microscopic fungus called Coccidioides. Like most people with valley fever, Rountree, 62, has no idea where he inhaled the fungus.
Living in an area of California that is dry and dusty, particularly after years of drought, Rountree could have breathed it in anywhere around town. Valley fever is not contagious. Only about half those who inhale the fungus will even get sick. Sickness can range from flu-like symptoms, to severe pneumonia, to death.
The disease is not new to residents in the desert areas of Arizona and California, particularly those who work outside and are exposed to desert dust. But according to the Centers for Disease Control and Prevention, valley fever cases in endemic areas are dramatically on the rise — from 2,265 in 1998 to 22,401 in 2011. Since 1990, more than 3,000 people have died.
Many in the general public and even in the medical community know very little about the illness. The lack of knowledge can delay diagnosis and treatment.
On Wednesday's PBS NewsHour broadcast, senior correspondent Ray Suarez reports from California, where NASA scientists are looking into the role of climate change in the recent jump in valley fever cases. Suarez also visits with Dr. Royce Johnson, of Bakersfield, Calif. Johnson is one of the leading infectious disease experts on valley fever. Tune in for the full report.
Read the full article on the PBS NewsHour website.